Children's Insurance
Children Insurance...an advantage for life.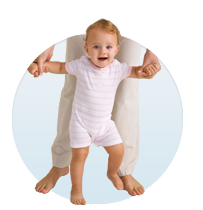 The Grow-Up® Plan is a children's whole life insurance policy designed for healthy children ages 14 days through 14 years. As a parent or grandparent, you can help ensure the children who mean so much to you will enjoy practical insurance benefits that can be a big help to them later in life.
What is the right amount of life insurance for kids?
When deciding to purchase children's life insurance, it can be difficult to know how much to buy. After all, the reasons to insure children are different from the typical reasons to insure an adult. It's common for adults to purchase enough life insurance to replace the income that would be lost upon their death, or to pay off any outstanding debts. But using these same calculations to determine the right amount of children's insurance doesn't make sense. Most children don't have any income or any debts. Instead, buying children life insurance is more about planning for their future financial security.
The Gerber Life Grow-Up Plan can give your child a powerful head start in life
The Grow-Up plan is designed to insure kids with permanent life insurance protection that also builds "cash value"—money that your child can borrow any time it's needed. This children's insurance plan offers whole life insurance coverage to children 14 days old through 14 years old. Issuing children insurance while they are still young and healthy can give them important advantages they may not be able to obtain later in life. While your child's life insurance is in force, your child will have several opportunities as an adult to purchase additional insurance at our standard premiums—even if your child cannot get insurance from other companies due to health conditions, hobbies, occupation, military status or anything else.
The policy amount "grows-up" with your child
With the Gerber Life Grow-Up Plan, you can start your child's insurance coverage as low as $5,000 or as high as $50,000. On the policy anniversary after your child is 18, the policy benefit amount automatically doubles—with no increase in cost! That means that a $5,000 policy becomes a $10,000 policy and a $50,000 policy becomes a $100,000 policy.
Lock in low childhood premiums
Because premiums are based on your child's age when you apply, the sooner you apply, the lower your child's lifetime premium will be—as low as $1 a week! And these low childhood premiums are guaranteed to never increase—even when your child's insurance policy automatically doubles during age 18. Find out more about this affordable way to provide the important benefits of life insurance for kids—request a free, no-obligation quote for the Gerber Life Grow-Up Plan today!
Gerber Life has been helping to insure children with valuable insurance protection for more than 40 years. When you buy a Grow-Up Plan designed to insure kids for life, you can feel confident in Gerber Life.
We're with you every step of the way®
Start here. It's easy!
X
Videos about
The Grow-Up Plan
Call 800-704-3331
for more information about
The Grow-Up® Plan
M-F 8am-9pm, Sat 9am-5pm ET