Grandkid Insurance
Grandkid Insurance for a safe future.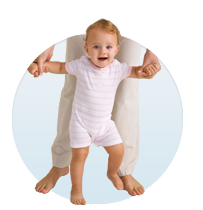 The Grow-Up® Plan is a grandchildren's whole life insurance policy designed for healthy grandkids ages 14 days through 14 years. As a grandparent, you can help ensure the grandchildren who mean so much to you will enjoy practical insurance benefits that can be a big help to them later in life.
Looking for a caring and thoughtful gift?
Buy your grandchild insurance.
Like most grandparents, you probably enjoy buying your grandchildren gifts. But toys and other presents can only bring happiness for so long. Why not consider a gift that can give your grandchildren an advantage for life?
Help provide a lifetime of security with "grandkid insurance"
For less than it costs to buy a few toys a year, you could give your grandchild a much more meaningful gift. Giving grandchildren a whole life insurance policy from Gerber Life is an affordable way to help protect their future security. It provides permanent protection while also building cash value that can be borrowed from later on. What other present costs so little yet means so much?
When you buy your grandchildren life insurance, you are giving them a powerful head start on their future. With whole life insurance, your grandchildren can receive lifelong protection regardless of any future changes in their health, hobbies, occupation, military status or any other situation that could prevent coverage from being approved. The whole life insurance policy also builds "cash value" that your grandchild can borrow from later.
Buy grandchild insurance now at low childhood premiums
Believe it or not, this gift of more financial security can cost as little as $1 a week! That's because your grandchild is eligible for Gerber Life's low childhood premiums. And these low premiums are guaranteed never to increase—even when your granchild's life insurance coverage automatically doubles during age 18! Because premiums are based on your granchild's age at the time you submit your application, the sooner you apply, the lower the rates will be.
Purchasing this caring and lasting gift is easy
Buying your grandchildren insurance is easy. As a grandparent, you can apply for this gift of grandchild insurance yourself. There are only a few simple questions to answer to request a free, no-obligation quote. No health exam is necessary, and over 90 percent of children qualify. Coverage depends on the answers to health questions in the application. After approval, you'll receive all the information you need to decide if a Gerber Life Grow-Up Plan could make an important contribution toward your granchild's future security.
Gerber Life…part of the Gerber family you've known since you were a baby
Gerber Life has been helping grandparents just like you provide the loving gift of whole life grandkid insurance for more than 40 years. When you buy a Gerber Life Grow-Up Plan, you can feel confident in Gerber Life.
We're with you every step of the way®
Start here. It's easy!
X
Videos about
The Grow-Up Plan
Call 800-704-3331
for more information about
The Grow-Up® Plan
M-F 8am-9pm, Sat 9am-5pm ET