Life Insurance Products Guide
Take the first step to protecting your family and providing a more secure financial future for your children. With just a couple of mouse clicks, you can learn about all your Gerber Life insurance options, select and apply for the coverage you need now: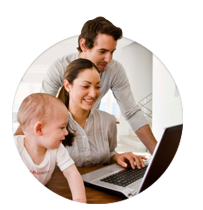 Frequently Asked Questions
At Gerber Life, we understand that buying life insurance is a very personal matter. This online worksheet can help you determine the type of coverage you need and what life insurance options you can afford.
Use this guide to familiarize yourself with the different types of life insurance options available and for definitions of key terms.