Find a Life Insurance Policy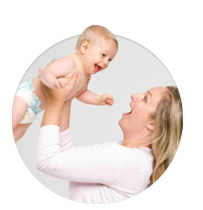 Life Insurance policy overview
Gerber Life offers five different life insurance products which provide a wide range of protection. The descriptions below will help you find a life insurance policy that is the best choice for you or your loved ones.
The Grow-Up® Plan
At Gerber Life, we understand you want to give your child every advantage possible. The Grow-Up® Plan is a simple and budget-minded way to start. For less than $1 a week, you can give your child a lifetime of life insurance protection worth at least $5,000. Your thoughtfulness today will help your child be better equipped for adult responsibilities tomorrow.
Learn More About This Plan
The Gerber Life College Plan
The Gerber Life College Plan is an endowment life insurance policy that combines guaranteed growth with adult life insurance protection. You decide how much you can afford to set aside each month, (and as long as premiums are paid), you will then receive a guaranteed benefit payment of $10,000 to $150,000 when it's time for your child to enter college. You choose when to receive payment, in 10 to 20 years.
Learn More About This Plan
Term Life Plan
The Gerber Life Term Life Plan provides a reliable, affordable way to help you protect your family's financial future. You choose the coverage and term that meets your needs—from $25,000 to $150,000—for 10, 15, 20 or 30 years. You choose the plan that works for you and your budget.
Learn More About This Plan
Whole Life
If you're looking for life insurance coverage that builds cash value, consider Whole Life. Whole Life builds cash value that will grow with time. You'll be protecting your family with whole life insurance, plus getting the added benefits of accumulating cash value to borrow against if needed.
Learn More About This Plan
Guaranteed Life Insurance Plan
No one wants to be a financial burden on those they love. But, unless you make preparations, your family could be faced with an unexpected funeral bill of more than $7,000.* That's why Gerber Life developed Guaranteed Life, a whole life insurance plan. It makes it easy for you to obtain a life insurance policy to help cover your final expenses—and more. Guaranteed Life is guaranteed issue.
*Federal Trade Commission. Nov 2009.
Learn More About This Plan
Accident Protection
The Gerber Life Accident Protection Plan gives immediate cash benefits of $20,000, $35,000, $50,000, $75,000 or $100,000 in the event of accidental death or covered disabling injury. Once you apply, your rate is guaranteed never to increase—no matter what your age or health. This accident policy is for an individual or spouse, and is available to anyone ages 19 to 69. Accident Protection is guaranteed issue.
Learn More About This Plan