Baby Insurance
Baby life insurance...an advantage for life.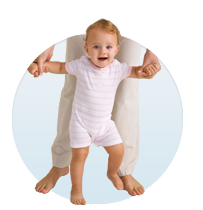 The Grow-Up® Plan is a babies whole life insurance policy designed for healthy babies ages 14 days through 14 years. As a parent or grandparent, you can help ensure the babies who mean so much to you will enjoy practical insurance benefits that can be a big help to them later in life.
Why would a baby need life insurance?
The primary reason why adults buy life insurance is to protect the people who depend on them for financial support. The insurance policy's death benefit can be used to replace the income that would be lost if they were to die prematurely. Since a baby doesn't earn any income, it might seem logical to think that buying baby life insurance isn't necessary. However, there are other important reasons why many parents make the caring decision to insure baby.
Give your baby a powerful head start in life
Even as your baby's life is just beginning, it's essential to start thinking about the future. You can take steps now that will help ensure a more secure life for your baby when he or she becomes an adult. It may be hard to imagine your tiny helpless baby becoming an independent adult, but that day will arrive sooner than you expect. When it does, your baby could begin adulthood with permanent life insurance protection and cash value. It all starts with buying a Gerber Life whole life baby insurance plan.
Creating a more secure future for babies—Babies Whole Life Insurance
For many babies, whole life insurance provides powerful advantages for life. When you buy your baby life insurance, you are helping to improve his or her opportunities for the future. Whole life insurance can provide permanent protection that will last your baby's whole life, regardless of your baby's later health, hobbies, occupation, military status or any other situation that could prevent coverage from being issued in the future.
In addition, whole life insurance accumulates "cash value" that grows over time. As an adult, your baby can borrow money from the policy or after 25 years even cash the policy in and get back all the premium payments. It's a great way to help your baby enter adulthood with added financial security and a head start in life.
Now is the least expensive time to insure baby
By buying an insurance policy for your baby's future now, you can take advantage of low childhood premiums that never increase. Your baby's insurance premiums will cost as little as $1 a week. And those low childhood premiums are guaranteed never to increase, even if your baby's health changes. Plus, with the Gerber Life Grow-Up Plan, your baby's life insurance coverage will automatically double during age 18—with no increase in cost!
Because premiums are based on your child's age when you apply, the sooner you apply the lower your child's lifetime premium will be. When you apply while your baby is still an infant, you will receive the lowest premium rates for your baby's life insurance coverage.
Take a moment right now to obtain a free, no-obligation quote for your baby's whole life insurance through the Gerber Life Grow-Up Plan. Gerber Life has been helping to insure babies with valuable insurance protection for more than 40 years.
Start here. It's easy!
X
Videos about
The Grow-Up Plan
Call 800-704-3331
for more information about
The Grow-Up® Plan
M-F 8am-9pm, Sat 9am-5pm ET